We're Here When You Need Us!
Have questions? You're in the right place!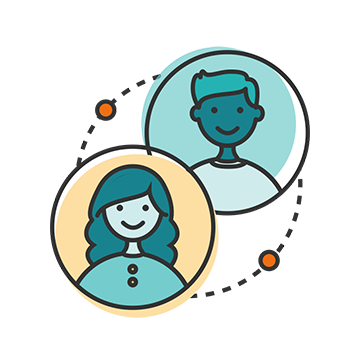 Frequently Asked Questions
What do I need to apply for a Tala loan?
Only an Android phone and one valid ID are needed to apply for a loan. No bank account required. Tala also does not require collateral.
How fast can I get a loan?
We provide most loan decisions in minutes. You choose first the loan amount offer, which can be equal to or less the amount you have been approved for, and the payment period. Follow the instructions for submission of ID requirements for verification. Once your ID is verified, choose where to receive the funds, which you can usually receive within one business day (or even instantly!), based on your preferred cashout option.

Bank Cashout Processing Time:
Within 1 business day – cashouts placed before 10AM
Next business day – cashouts placed after 10AM
Padala Center Cashout Processing time:
Within 1 business day – cashouts placed before 12NN
Next day – cashouts placed after 12NN
After 60 Mins. – cashout via Cebuana Lhuillier

A separate SMS with the Sender's name and mobile number will be sent to you once your loan is already available for pickup. Please also note that the service charge will be deducted from your loan.

How do I receive funds?
Once your loan and ID requirements have been approved, you can choose to receive the funds from padala centers (Cebuana, Palawan, M Lhuillier & LBC), your own bank account, or the Coins.ph app.
How can I repay?
You can only repay your loan at 7-Eleven, Cebuana, M Lhuillier, or Coins.ph. Remember that you can repay in full or in partial payments.
What happens if I can't repay on time?
If you do not repay on time, Tala may charge a one-time late fee of 8% of the total amount outstanding as of the date the late fee is charged.
If your balance is left unpaid, you may be endorsed to one of our debt collections partners and they will contact you to make payment arrangements. Failing to settle your balance after multiple notices may affect your credit standing with Tala Philippines and may affect your credit score. Tala reports to the Credit Information Corporation (CIC).

What are the payment terms, and the fees and charges associated with a Tala loan?
We understand how important it is to pick a due date that aligns well with your income cycle and foreseeable financial commitments, so Tala now gives you the flexibility to choose any repayment date between 15 and 61 days that aligns with your needs and ability to pay.
The interest rate for your loan will depend on the loan duration you choose. For example, it could be as low as 9% for a short 15-day term and up to 29% for a longer 61-day term.
What are Tala's licenses and registrations in the Philippines?
Tala Financing Philippines Inc.
SEC Registration No.: CS201710582
TIN: 009-614-758
Certificate of Authority No.: 1132
Still need help?
Please email us at support@tala.ph with any questions, comments, thoughts, or complaints and our support team will respond as soon as possible.

Already have the Tala app? Click here to talk to a customer care agent directly through the Tala app.
For business inquires, please click here.
TIM Building, Osmeña Highway cor. Arellano Street, Makati
Tala is operated by Tala Financing Philippines Inc., a licensed financing company with SEC Registration No. CS201710582 and Certificate of Authority No. 1132.
Always study the terms and conditions and the disclosure statement before proceeding with any loan transaction.