Join na sa Tala Career Kickstart Raffle!
To join, simply fill out the form!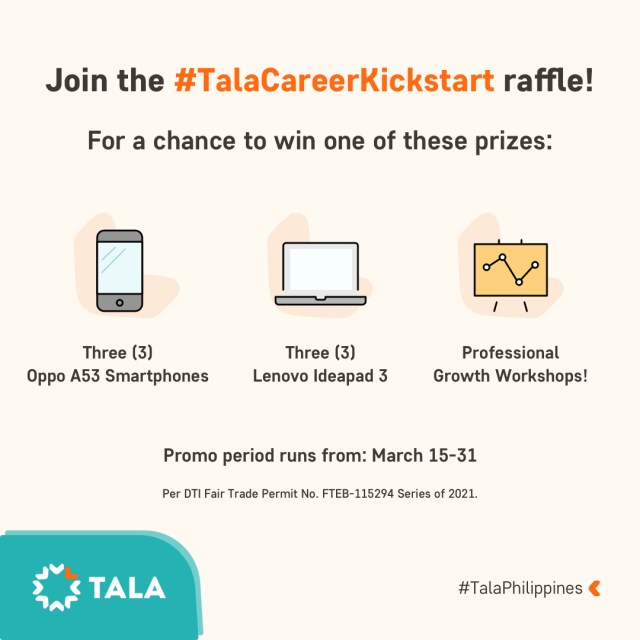 | | |
| --- | --- |
| Project Owners: | Tala Philippines |
| Type of Promo: | Online Raffle Draw |
| Submission Period: | March 15 – March 31 2021 |
| Determination of Winners | April 5, 2021 |
| Announcement of Winners: | April 8, 2021 |
| Coverage: | Metro Manila |

Eligibility
The Tala Career Kickstart raffle is open to the following participants:
Filipino citizens residing in Metro Manila, Philippines, aged 18-29
The following are prohibited from participating in the promo:
All employees of Tala Philippines, their creative agencies, any person or entity involved in the event, as well as their relatives/family members up to the third degree of consanguinity or affinity are not eligible to join the promo.
Entry Specifications
To enter the #TalaCareerKickstart raffle draw, participants must complete the following steps:
Visit the promo landing page located on the official website of Tala Philippines.
Fill out the official raffle form with the participant's email address, complete name, address, gender, and date of birth. Only one raffle entry per participant will be allowed.


Upon completing the entry form, the participant will be directed to a "thank you" page, confirming their
entry into the raffle draw.
Determination of Winners
The raffle will close on March 31, 2021, at 11:59PM. Winners will be randomly selected through PromoSimple and in the presence of a DTI representative on April 5, 2021, at [time]. A total of six (6) winners will be chosen to win one of the following prizes:
The first three winners will win one of three (3) Oppo A53 Smartphones
The next three winners three (3) Lenovo Ideapad Laptops

As a bonus, each winner, regardless of which prize is awarded to them, will receive access to a professional growth workshop hosted by Tala. Each participant can only win once.
5. Announcing of Winners
Winners will be announced on April 8, 2021 at [time] in a post launched by the official Tala Philippines Facebook Page. Winners will also receive individual letters through registered mail, as well as email messages confirming their winning of the raffle draw, and will also receive instructions on how to claim their prize.
6. Claiming of Prizes
Winning participants may claim their prizes at the Tala Philippines office located at the TIM Building, 5600 Osmena Highway corner Arellano Street, Barangay Palanan Makati City, on dates agreed upon with Tala. Winning participants must present one (1) valid government issued ID and a copy of the notice received by registered mail before claiming their prize.
7. Prizes are non-transferable and not convertible to cash.
8. Should a winning participant not be able to claim his/her prize within sixty (60) days from the promo end date,
this will result in a forfeiture of the prize and will be awarded to another random participant, upon prior approval from DTI.
9. Tala will shoulder the 20% tax for prizes exceeding P10,000.
Control Measures
1. Prior to the commencement of the promo period, a DTI representative shall be invited to a Google Meet call for remote checking, testing, validation, and verification of the PromoSimple system used for receiving entries and selection of winners.
2. A DTI representative will be invited to the remote determination of winners as scheduled.
3. The list of winners, which shall include the name, e-mail address, mobile number, and present address of each winner, will be submitted to the DTI after determination.
4. All customer concerns may be addressed by emailing support@tala.co.